Location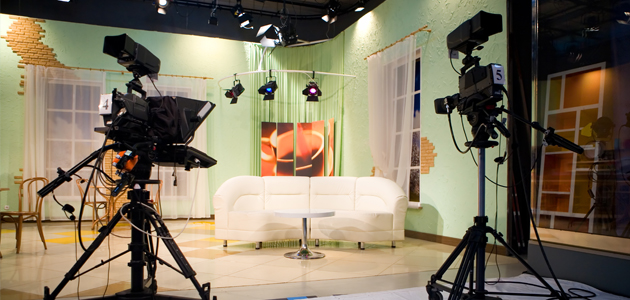 The location for interview training should  precisely replicate reality.  A genuine broadcast studio, with a professional crew, is the ideal location.  We use Westminster Live – westminster-live.com – and IQ Studios – www.iqstudios.co.uk.  Both are HD broadcast facilities servicing UK and international clients including the BBC, ITV, Fox, NBC etc. etc.  The equipment is of the highest quality, and the crew fully professional.  As with our trainers, the studio personnel are used to dealing with interviewees from all walks of life, including world leaders.  This means participants on our courses are subjected to the precise conditions they will meet in the real world, without any compromise
In fact, one participant on a recent course shuddered and said "Oh! I can feel the atmosphere!" as he entered the broadcast studio. He was a senior manager responsible for 250 people, and by no means nervous. In his feedback to management he wrote:
"Just to let you know I thought the course was excellent. Allan King is (naturally) highly professional, and struck exactly the right note between encouraging us to deliver messages in a clear and cogent manner, and reducing us to quivering wrecks with the lash of his acid wit. Very enjoyable, very enlightening and very valuable. Thank you."
An effective alternative to visiting a studio is a session on the client's premises.  In this case we use professional broadcast equipment and a director/cameraman who shoots news and current affairs on a daily basis.  The quality of the training is not diminished, but exposure to the alien studio environment is obviously absent.  This is a less expensive option and is useful if the participants are more likely to be interviewed in their office or on location, where studio familiarisation is not required.
Our Goal

The aim is to break through the natural fear of the unknown, with essential practical advice on clothes, posture and make-up (yes, men have to wear it too, although it isn't compulsory on the course!)
It is commonplace to see, hear and evaluate distinct improvements in performance at the end of all the sessions.  The tips on how to improve further will help to achieve a better understanding of how journalists go about their business, and how to avoid the pitfalls they might lay in your path.
The ultimate goal is to help delegates use the media to their advantage: regarding it as an opportunity rather than something akin to a visit to the dentist.  A successful interview on a respected broadcasting channel is immensely valuable. It's been calculated that ten lines of print or a two-minute TV report has the same impact as ten full-page advertisements in a national newspaper.  There is no better means of putting information and points across, in one's own words, for everyone to see and hear – and think of all that free advertising!